Deprecated
: Function create_function() is deprecated in
/home/stylebyj/public_html/wp-content/plugins/wp-spamshield/wp-spamshield.php
on line
2033
We aren't going to lie and tell you how easy and effortless denim on denim looks are. We are going to be brunt and even brutal and tell you that you will need a lot of patience, time and snacks to find a denim on denim look that works perfectly for you!
To perfect your denim on denim look, the first thing you need is to learn about the different denim washes, cuts, and pairings. Don't fret, we did all the research for you!
1. Contrast the denim washes
The biggest issue with pairing denim on denim is that denim in itself is a very bold and assertive look and if there is one thing we preach here, it is our love for balance when it comes to fashion. To balance out the heavy denim, pair different washes together rather than opting for one uniform wash look. Use darker shades around areas you want to slim out – thighs, tummy, and arms. The dark colors will make you look toned and add dimension to your overall denim on denim outfit. The lighter washes will add freshness to your overall look and will add the much-needed balance.
A perfect denim on denim combination to give a nicer illusion to your proportions would be black denim jeans paired with a light almost acid wash top. You can do it the other way around with dark washes on top and lighter on the bottom.
2. Distress your fabric
How can we write a denim on denim article without mentioning distressed jeans? I know, in the past we have always asked you to stay away from overly distressed jeans and ripped jeans but when it comes to an all denim look. You need to add depth and contrast and this is where distressing will come in handy.
Opt for one distressed denim piece in your denim on denim look. Either it be the jeans or top- we prefer distressed jeans. Distressing will also allow you to wear the same wash of jeans without feeling overwhelmed.
3. Style it up with accessories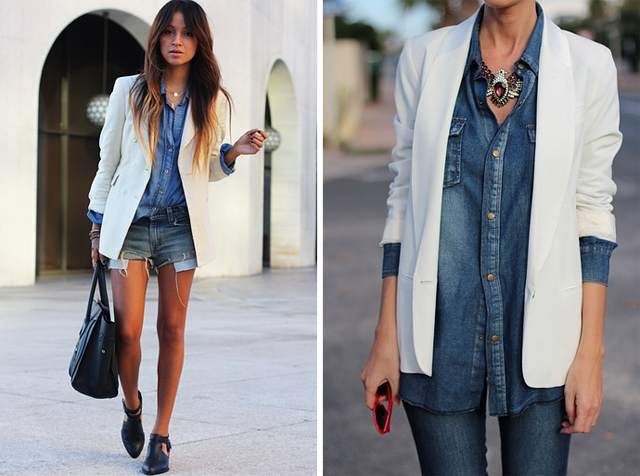 To create a styled up look with denims, make sure your jeans cut is slim or skinny and your shirt, jacket or vest is fitted. Pairing together a pair of baggy jeans with ill-fitting shirt is not going to look flattering!
When wearing denim on denim with shades that are similar in colour, one of the main ways you can make this work without looking dated is in the accessories. Try wearing a printed jumper/sweater under your denim jacket and some bold shoes, or layer on lots of jewellery. The important thing is mixing up the denim with other fabrics and colour, drawing the attention away from the wall of denim. Layering over a coat or scarves are a great way of adding textures too!
Denim on denim can be experimented with prints or bright colours. You can wear denim in all different colours, as long as they go together.
So, these are my tips to creating a denim on denim style look. One that looks chic or stylish and not too overdone. No matter what style or wash of denim you choose, remember to always create balance with your outfit and proportions!
I love hearing from you, if you have any feedback, opinions or questions please comment below and If you enjoyed this post and know someone who could do with this information please share it with them by clicking on the share button below.
If you would like to breakthrough from your current style and step into your True Style Personality, drop me a chat (jeann@stylebyjeann.com) or simply follow me on INSTAGRAM for style inspirations.

Other Readings You May Be Interested